Consumers are ever-increasingly being connected to services and products at the speed of light. Nearly all consumer-facing industries have been touched by this change in customer service, setting a precedent in what we come to expect in our shopping experiences.
When it comes to your real estate business, it's important to understand who these consumers are, how you can evolve to meet their needs and what seller-centric, quick-sale options are available in the marketplace at this time.
Who Are Today's Consumers and What Do They Want?
There are five generations of consumers present in society today and more than half of them have never lived their lives without immediacy in their consumption of goods. Some of them haven't known a world without computers, cell phones-- even Amazon.
In fact, Millennials (born 1981-1996) and Generation Z (born 1997- present day) make up 48% of the population-- that's almost half (Nielsen Total Consumer Report, 2017). These two generations have come of age during the advent of technology and with their presence in the global marketplace, have brought with them the cause for a new terminology: "on-demand consumers." [Check out more on-demand consumer stats in our infographic.]
Exactly what do these on-demand consumers want? Faster service, more options, less exertion and an ease of payment with the touch of a finger. From quick store-to-door grocery deliveries to apps like Uber to monthly product subscription boxes, a large part of our society is looking for instant gratification and are willing to pay a premium to get it-- and this includes real estate.
Learn How To Evolve in Digital Channels to Meet Consumers' Needs
In the real estate marketplace, in 2017, Millennials made up 42% of the home buyers and 32% of the sellers-- and this number will continue to increase. This means that as agents, we need to find ways to translate what we offer into the digital world and make the information easy for the consumer to access.
Buyers want instant home information, photos and viewings and sellers are interested in a quick home sale.
Here are four tips to evolve your business to cater to on-demand consumers:
Use social media platforms regularly in conjunction with a clean, well-designed website. Write professional, branded content to showcase what's happening with your specific business.

For listing presentations, in addition to the traditional packet, come prepared with a digital version uploaded with current photos of the home, neighborhood and any other data or information highlighting your home-selling expertise with the local area.

Incorporate video into your marketing. Whether it's through Instagram-stories, on YouTube, Facebook Live or in your email marketing, capture your prospects' attention with an engaging 30-60 second clip.

Be accessible to answer your buyers' and sellers' questions in different ways such as by text, phone, Facebook's Messenger or other interactive applications.

If you begin to think about the different on-demand consumer touchpoints and how you can apply your brand to them to put yourself directly in front of them, engagement with your brand increases along with your industry expertise.




Learn What Real Estate Options Are Available To Meet Consumers' Demands

Real estate transactions are no exception when it comes to an on-demand consumer experience. Companies like OpenDoor and OfferPad and services like Zillow's Instant Offers are a testament to the widespread seller interest.

Familiarize yourself with the quick-sale seller options and experiences so you can educate your sellers and build your industry expertise. Even if certain platforms aren't available in your area yet, understanding how the different options work arms you with the knowledge you may need to answer client questions.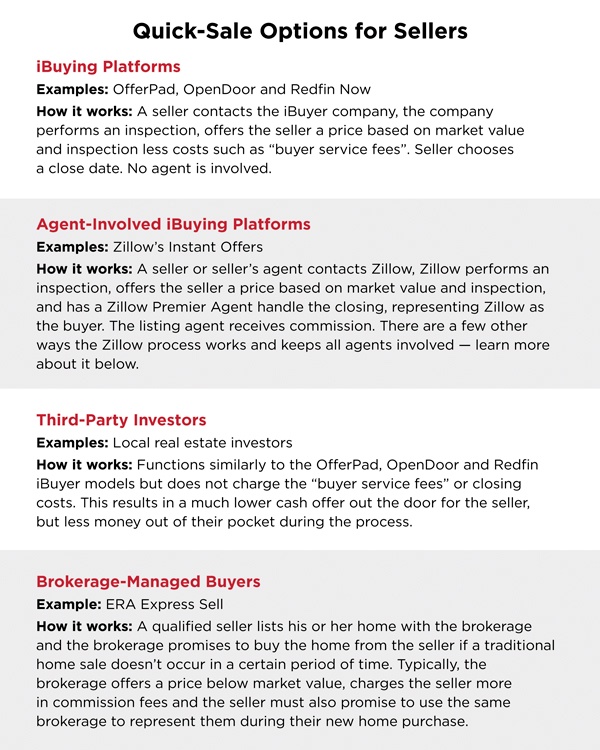 During your real estate career, you'll witness different trends and nuances to how consumers engage with their real estate transactions. As a guide and representative to buyers and sellers, and an expert in the real estate market, it's critical to stay on top of any industry changes. Make the effort to understand who your consumers are, stay relevant to their needs and share your knowledge of what options are available for them.
Resources
Total Consumer Report, Volume 2. (2017, October 19). Retrieved May 15, 2018, from http://www.nielsen.com/us/en/insights/reports/2017/total-consumer-report-volume-2.html