As an agent, you have probably heard over and over that social media marketing is an easy and effective strategy to win over clients. At the same time, trying to keep up with multiple platforms and find engaging content to post can quickly become overwhelming. Social media's freedom doesn't always come without challenges.
How do you push past these challenges? The answer comes from your mindset. You have to think of social media as an element of your business plan rather than thinking of it as separate and intimidating. Not only will you feel less stressed and more in control, but your content will be higher-quality and more engaging.
Here are a few ways that you can start to make the transition from viewing social media as an outsider to integrating it into your work.
1) Set & Incorporate Goals
The biggest frustration that agents often have with social media is not knowing what to post. Should you post a picture from an open house, an article about the current market or a video of yourself talking to clients? To determine this, there is one important step to take: set goals for your social media presence. If you don't have goals, you'll likely have a jumble of content that sends out a weak message to your audience.
Setting goals doesn't have to be intimidating, especially if you view social media as a part of your work. You can use many of the same goals you set for your business to guide your social media content. This will help you create SMART goals for your social presence -- goals that are specific, measurable, attainable, realistic, and timely. For example, if you want to generate new leads, you could set a goal to interact with 10 prospects per week on social media. Once you find yourself consistently hitting this number, go deeper. Try to interact with more prospects, or even assign your goal a revenue number.
Aligning social media with your job goals allows you to focus more on your social presence while still keeping a broader objective in mind. You'll be more likely to have success through your social media platforms, and therefore have success in your work as a whole.
2) Understand the Platforms
Social media is only a true part of your business plan if you understand the platforms you're using to connect with your audience. Each platform has different features and methods of advertising that work best, so it's important to research which of these platforms will help you best achieve your goals. Here are the basics of a few platforms that agents find helpful in their companies.
Facebook - This is the largest social media platform in the world, so there's a good chance that your audience lives here. With the option to have a business page, it's also a great platform to advertise your company. Keep in mind, Facebook has the most extensive options for you to connect with your audience. People can reach out through your public timeline, the comments of your posts, a private message, or groups that companies (like your brokerage) create. Therefore, it's important to stay active in each of these channels to ensure you are connecting with everyone who wants to chat.
Here's one idea for an eye-catching Facebook post to connect prospects to one of your listings.
Photo: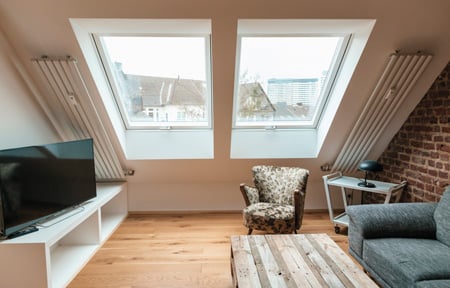 Caption: Have you ever seen a house with tilted windows? Now you have. The next step is to come experience our new listing in person so you can really understand what's happening in this photo.
1234 Main Street, Chicago, IL, 60007 | 3 bed, 3 bath | $259,000
Instagram - This is a platform growing in popularity with agents because of its visual focus. While it seems simple to post pictures, there are still some basics to learn before jumping in. To start, you have the option of posting single pictures, albums or short videos to connect with your audience. These can be permanent posts, or they can go on your Instagram story where they will stay for 24 hours unless you choose to "highlight" them on your profile. The highlight feature keeps stories on your profile for visitors to view anytime, so it's great to use for stories that have a longer shelf life. It's also important to not only consider the photos and videos that you're posting, but also the captions you give them. A good caption captures the essence of a photo while calling your audience to take some action. Finally, using hashtags is one of the most effective marketing tactics that Instagram offers; use a few that are relevant in describing your post, and people will be better able to find your content.
Here's an example of an Instagram post that will catch people's attention and inspire action. Remember, this doesn't have to necessarily be related to one of your listings.
Photo: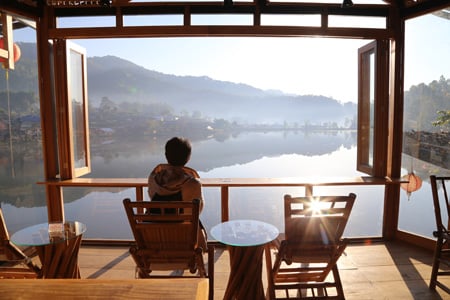 Caption: Witnessed this stunning view from a friend's lake house today, and it's safe to say that I'm ready to move in! If you're ready to find your dream view, contact me and we'll find the perfect home for you. #realestate #dreamhome #views
LinkedIn - This platform might appear more straight-forward due to its business nature; in fact, it's used by over 500 million working professionals around the world. Because of this, it's a great resource to use if you want to connect with local companies. However, it can be difficult to connect with prospective clients since many people are on LinkedIn for work purposes. They may not be as responsive to real estate marketing as they would be on other social media platforms. It won't hurt to keep an updated company page and network through LinkedIn, but you'll likely have more luck finding clients on other platforms.
3) Use Your Resources
Integrating your social media presence into your work is most effective when you use outside resources to help you plan. From creating the content to actually posting it, these resources will ensure that your social media posts are in line with your business plan.
To assist in content creation, you might have to think outside the box. What resources does your brokerage provide to assist in your marketing? An easy way to find inspiration is by following your brokerage's social media pages, whether that be Instagram, Facebook or even LinkedIn. Some brokerages take it a step further by providing additional marketing materials For example, HomeSmart has a Marketing Design Center that is included in agents' RealSmart Agent portal. In the MDC, there are hundreds of free templates that agents can use to create social media content that's in line with their goals. In addition, think about what features of your social media platforms you can creatively use to engage your audience. On Instagram, for instance, you can include polls in your stories or even go live to connect with your audience in a more unique way.
To assist in managing your content, there are several programs that take the stress out of posting by automatically releasing your content at a specified time. HootSuite and Later are a couple of popular choices. While these have a cost, there are also free programs to help you manage your content. Social Searcher helps you find patterns by monitoring how much a keyword, like your company name, is used online over time. Similarly, Google Alerts can be set up to alert you when this keyword provides new search results in Google.
By taking these three steps to manage your online presence, your social media and business plan will effectively intertwine. This enables you to create high-quality, engaging content, bringing you closer to your overall goals. Social media is a tool used by many successful agents, so don't view it as an outsider. Let it into your business!