"When practice and courage meet, what you feel is personal growth," Kristi Kennelly, with Realtor.com, began her presentation of Top Micro Strategies for Real Estate Marketing during HomeSmart's annual KEY To Your Success Event. Formerly a broadway dancer and presently a self-proclaimed marketing nerd, Kennelly provided insight into how to heighten yourself and your business with four marketing tips.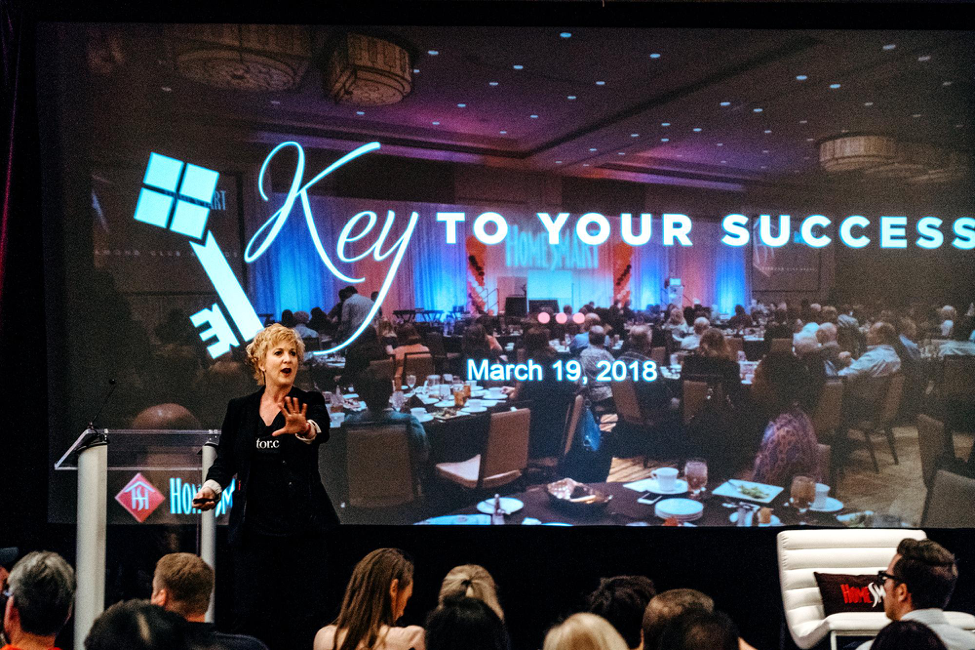 4. Be Automated
Invest in marketing automation software and a company to set it up for you. Kennelly says that Customer Relationship Management (CRM) is the heart of your business. A software that consolidates customer information allows you to improve customer service relationships and increase customer retention.
3. Be
Hyperpersonal
Kennelly advises to make it obvious that you took time out of your day (even if it was just a few minutes) to personalize a message you are sending to a customer. Consider sending a hyperpersonal video response to leads rather than an email or voicemail. People love to hear and see their own names so starting the video off with a simple note card with your client's name on it, will immediately grab their attention.
2. Micro Target
Kennelly says to clarify your target audience rather than target anyone and everyone. A simple and easy tip to do this is to create a local group on your Facebook page. Additionally, use different platforms to go live to increase your outreach. A great way to do so is through BeLive.TV, a free online tool that allows you to broadcast a live interview without having to be in the same place as the person you are interviewing. Kennelly explains that you easily double your reach by adding another person to your video. Ask questions, have a conversation and increase your outreach. And if you truly cannot stand the idea of video taping yourself, try sharing your screen showing market data with a voice over so you still have a live video, without the camera pointing at you.
According to Kennelly, Facebook's algorithm does not favor publishers and marketers. The social site pushes family and friend interactions over advertisements, so it is in your best social media interest to follow this rule.
1. Be a Video Marketer
The number one micro strategy Kennelly shares is video marketing. While most people (let's be honest, all people) cannot stand to see themselves on their front facing cameras, Kennelly wants you to understand the benefits video marketing can have for your business. She continues on to convince the audience that 60 seconds of talking into your camera, however painful it may be, will be more than worth it in terms of marketing yourself. She also aims to remind us that no one cares quite as much about how we look than ourselves.
Kennelly suggests to start by replacing certain tasks you already have in your day, a phone call for instance, with a "selfie" video. She says, once a week is all you need to see a difference in your outreach. A one-to-one video receives a 199% lift in play rate and viewers retain 95% of a message they watch in a video compared to only receiving 10% of a message when reading text.
The social media specialist says to think of it as leaving a voicemail, but instead, you are leaving a personalized video. Or, instead of sending out a monthly newsletter, send out a monthly video announcement. Use this as an excuse to have fun with your job and let your clientele see who you really are. Camtasia, CloudApp and Facebook Live are on the top of Kennelly's list of easy-to-use, free apps that allow you to create and edit your videos. She even offers an alternative if you are not quite ready to "selfie" video: Lumen5.com is a platform for video marketing that easily takes an idea and turns it into a video (without the front facing camera).
Kennelly concluded her presentation with a 60-minute challenge to increase your marketing outreach.
Step 1: Record a 1-minute market update video (time investment: 20 minutes)
Step 2: Post on Facebook, Twitter, LinkedIn, Twitter and YouTube (time investment: 5 minutes)
Step 3: Boost video post on Facebook and target CRM database (time investment: 5 minutes)
Step 4: Send personalized market update Snapshot® email (time investment: 0 minutes)
Step 5: Retarget on Facebook-- Send "Home Upgrades Video" to those who viewed market update video (time investment: 15 minutes)
Step 6: Send a 1-1 video to anyone who opened Snapshot® email (time investment: 15 minutes)
Follow her four tips, complete the challenge and watch your business grow.
Follow the link to view her presentation slides along with the full KEY To Your Success Event hosted by HomeSmart International on SlideShare.