By Lauren Walker
Using Facebook for real estate is kind of a no-brainer. It's a social platform that helps you make genuine connections and be present in your local marketplace. But there is some debate over whether you should use your personal page versus a business page.
Three Important Reasons to Have a Facebook Business Page for Real Estate:
You can run ads. This is the real moneymaker for Mark Zuckerberg and friends, but advertising on Facebook can be as simple or complex as you want it to be. Whether for listings or branding, Facebook ads are fantastic tools.
You can get data. When do your posts get the most engagement? What is the demographic of your community? The Facebook Insights tool is only for the 'biz' side of things.
You look official. If you're really running a business, you have a Facebook business page. It's that simple.
For our purposes, we're going to focus on your Facebook business page. But, let's be honest: these pages are just not as exciting as a personal page. And too often they're lackluster, as agents don't take the time to set them up and use all the tools at-hand to get more engagement.
So let's change that, shall we?
Punch-Up Your Facebook Business Page for Your Real Estate Brand
1. Change your cover photo regularly. Have it reflect the seasons in your area or local events. You can feature your listings, but not all the time, and maybe only for a week or so.
2. Pin a high-performing or otherwise important post to the top of your page. Swap this every few weeks or so, to avoid fatigue.
3. Add your Relola map and carousel widgets to a custom tab. As a HomeSmart agent, you have free use of Relola from your SmartSites 2.0 navigation.
Custom tabs are a way to truly personalize your Facebook business page. Since posts are shown in a linear fashion, the Relola widget tab is a way to make your page sticky -- giving people content to interact with. And it's automatically updated everything you drop a pin.
Of course, you might not want to call your tab "My Local Expertise." Here are some suggestions of what to call your map:
Explore my map!
My local loves
My local favorites
My expertise
My town faves
The best of my town
4. Boost your best posts. Boosting isn't the same as running an ad campaign. Boosting a post makes sure more of your network sees it in their feed. The organic reach of Facebook business posts has plummeted in recent months, as Facebook wants you to pay to play. But it's still very affordable. For just $5.00 per post, you can double your reach. Set a monthly budget so you don't lose control of your spend!
5. Tag other pages. If you're sharing a Relola Insight about a local business or another entity that has a Facebook page, be sure to tag them in the post. They'll be sure to like it, and perhaps share it to their own network, and expand your reach.
6. Share Relola Insights with purpose. Every time you publish an Insight by dropping a pin, it goes on your Relola map automatically. The second step is then to share the Insight on your social channels, including Facebook. But too much sharing can be noisy. Relola power users drop pins, then go back to their Homebase to share more mindfully at a later time.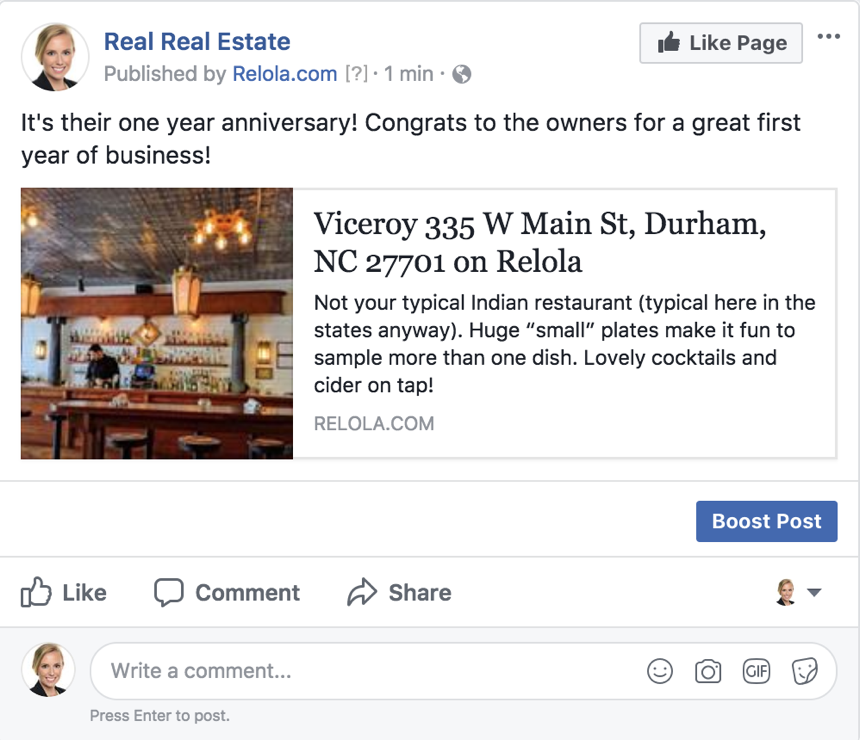 You can also re-share Insights if it's especially timely. For instance, you already dropped a pin about your town's farmer's market, but they have an event coming up you want to help promote. Remember, insights don't only have to go on your business page. While your Relola widgets live there, you can share the Insights to your personal feed as well.
7. Use hashtags, but beware of hashtag overload. Twitter used to the realm of the hashtag, but Instagram has turned us all into hashtag addicts. But they can get out of control quickly. Be mindful of why you are using a hashtag -- is it to be funny? Is it to help with search? Is it to connect your content to a broader conversation?
8. Add a CTA button. Facebook offers a range of buttons you can add to your cover image. The "Get in Touch" category offers seven methods for you to customize the way people can engage with you on this channel.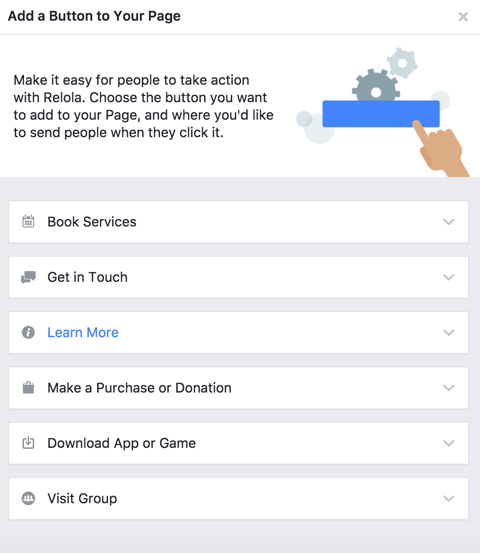 9. Play with a Messenger Bot. ChatFuel, OnSequel, Botsify, and Conversable are just some of the bots on the market now to help automate your response time using Facebook Messenger. Particularly when you've added a CTA button that encourages people to get in touch, having a faster response that uses artificial intelligence to better serve your prospect is a fun and exciting use of the technology.
It's always best practice to use different channels of marketing to reach as much of your audience as possible. But more importantly, using the appropriate platform to reach your audience needs to be considered. With it's high-user count and optional additional marketing tools, creating and maintaining a Facebook business page will consistently pay off as one of the best professional digital marketing choices you can make for your business.
Lauren Walker is the director of content marketing for Relola. She's a 20-year veteran of direct marketing, having worked for brands such as Reader's Digest, IBM and Showtime. She's passionate about branding and a staunch believer in the power of story.