You've heard about real estate investing, but do you know what it really entails? On the surface, it might sound like a flashy gig to make some extra money and diversify your portfolio. And while the job can certainly be lucrative, it takes consistent learning and hard work to be successful.

We're here to break down the basics of real estate investing so that you're equipped with the knowledge you need to get started. To help us, we talked to James Judge, a top-ranked HomeSmart agent and residential real estate investor with a specialty in flipping houses. Here's our beginner's guide to real estate investing:

First, Know Your Options.
Being a successful investor requires choosing the right investments. To figure out what investing method works best for you, first decide if you want to be an "active" or passive investor: do you want to have a hands-on or hands-off role in the process? Active investing requires greater real estate knowledge and overseeing a project form start to finish. Passive investing can be done regardless of experience and often involves handing over capital to professionals who will invest for you. Here are a few common types of investments that you can make:
Active Opportunity: Flipping Houses
As an expert house-flipper, James perfectly captured what he does as "looking for opportunities to make houses into homes." To elaborate, flipping houses requires purchasing a home, making renovations to increase its market value and selling it at a higher price to make a profit. This is the most active, hands-on form of investing that you can engage in. It comes with a lot of work but also has a lot of potential.
According to James, flipping houses is a full-time job. While having a good team can reduce the time spent working, you still have to oversee the project and ensure that the moving parts come together. It's especially important to have a passion for this kind of work so you can enjoy it. As both a REALTOR® and an investor, James works long hours that can make it hard to find a work-life balance, but he stated, "Thankfully I love what I do; therefore, it doesn't always feel like work."
Despite the time commitment, James is proof that flipping houses can be an incredibly rewarding investment. Over the past eight years, he and his team have successfully flipped over 100 properties. But when you're just starting out, James suggests taking any opportunity that's available, even if it's small. Small projects often move much more quickly and can become more worthwhile as a result.
Here's a before-and-after look at one of the many homes James has flipped: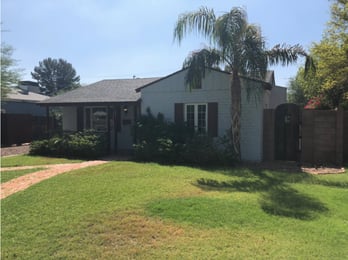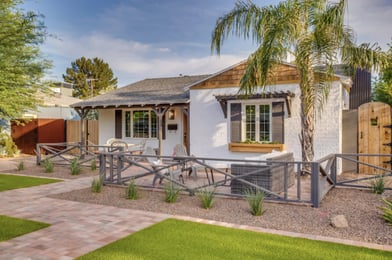 Active Opportunity: Rentals
Investing in short or long-term rental properties has the advantage of providing you regular cash flows as a property owner, as long as your tenants are responsible. However, finding reliable tenants requires some upfront work, like conducting background checks and drafting legally sound contracts. Once you have tenants, it's also your responsibility to collect rent, maintain the property and ensure legal compliance. Still, the benefits of rentals can outweigh the costs.
Many investors choose to focus on long-term rentals, which provide more consistent income and are usually a shorter time commitment. But short-term rentals have their perks, too. Having experience working with short-term rentals, James told us that while there may be more upfront costs and less consistent cash flows, the income generated from short-term rentals is often much higher than long-term rentals overall. If you're willing to put a few extra dollars into your rentals, short-term rentals might give you the most bang for your buck.
Here's what James did to fix up a rental property: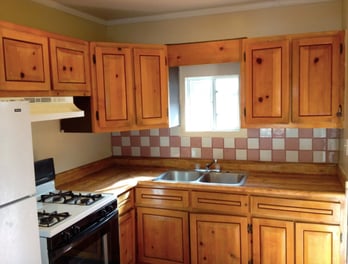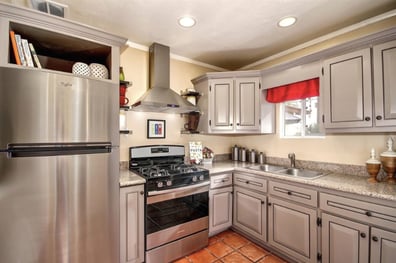 Passive Opportunity: Real Estate Investment Trusts
If managing a property sounds like too much work, you can start small by investing in real estate investment trusts (REITs). REITs are companies that own and offer investors' shares of commercial real estate-–like office buildings and retail spaces. They usually require very little money to invest. Additionally, they are required to distribute at least 90% of their taxable income to shareholders each year, so investors can often expect high dividends without having to actively manage their investments.
While investing in REITs might seem like a no-brainer, it's important to recognize the different types of investments before committing. Publicly traded, publicly non-traded, and private REITs each have their own advantages and risks. Non-traded REITs aren't easily sold and are harder to value, so beginners are better off starting with publicly traded REITs, which you can buy from an online broker.
Next, Figure Out Your Finances
No matter what type of investing you pursue, your plans for success could backfire if you aren't mindful of where your money is going. To save yourself the future headache, it's important to get your finances in order before deciding to invest. Real estate investing can be expensive, so before starting, make sure that you have enough money set aside in an emergency fund in case things don't work out as planned. You can also set yourself up for success by paying off any debt and automating your savings.
James emphasized the importance of having a budget when you start investing. He said, "It's challenging to find the right balance between what you want to do and what you need to do [when renovating a home]," and it's important to make investments that align with your financial position to set yourself up for success. For him, this means focusing less on making a house "perfect" and more on making the necessary renovations for a successful flip to maximize function and make it feel special at the same time. While your budgeting strategy might look different than his, it's important to have one for long-term success.
Find Your Market, and Know It Well
Many new investors think that they can do real estate investing in any market, but every market is different. What works well in one market may not in another. One of James' biggest tips for beginners is to find your market and learn it. When he started his investing career, he did flips all over the Phoenix valley. He said, "Ultimately, I found that it was best to focus on one specific market so that I could learn what people wanted and understand how to spot a deal." When he started focusing on one area, James realized that different styles of homes sell better in different locations, and price per square foot can vary dramatically by neighborhood. Now that he has identified and learned his market, he knows how to adjust his investment strategies to the area around him and has seen exceptional results.
And Remember... You Can Do It!
If you still need that push to give investing a try, just remember that real estate investing provides opportunities for everyone. James got into investing unexpectedly when he couldn't find a job after college. After graduating with an Interior Architecture degree, he started working with an investor to source homes and remodel properties. The agent he was working with suggested he tried flipping houses, and the rest is history. So if you haven't spent your whole life preparing to invest, don't worry. If James can do it, so can you!
To learn more about James and see the work he's doing, follow along on his website and his Instagram @thehousejudge for your daily dose of investing inspiration.