When you think of the reasons that your clients choose to buy a home, what comes to mind? Maybe they buy because they want more living space, want to build equity or for family reasons. But in today's market, many of them are making this decision because of something different: their pets.
In a poll conducted by SunTrust Mortgage, pets were cited as the third most common reason for buying a home, ranking above marriage and children! So, as an agent, what can you do to help owners find the perfect home for themselves and their fur babies? Here's everything you need to know about the power of pets in real estate.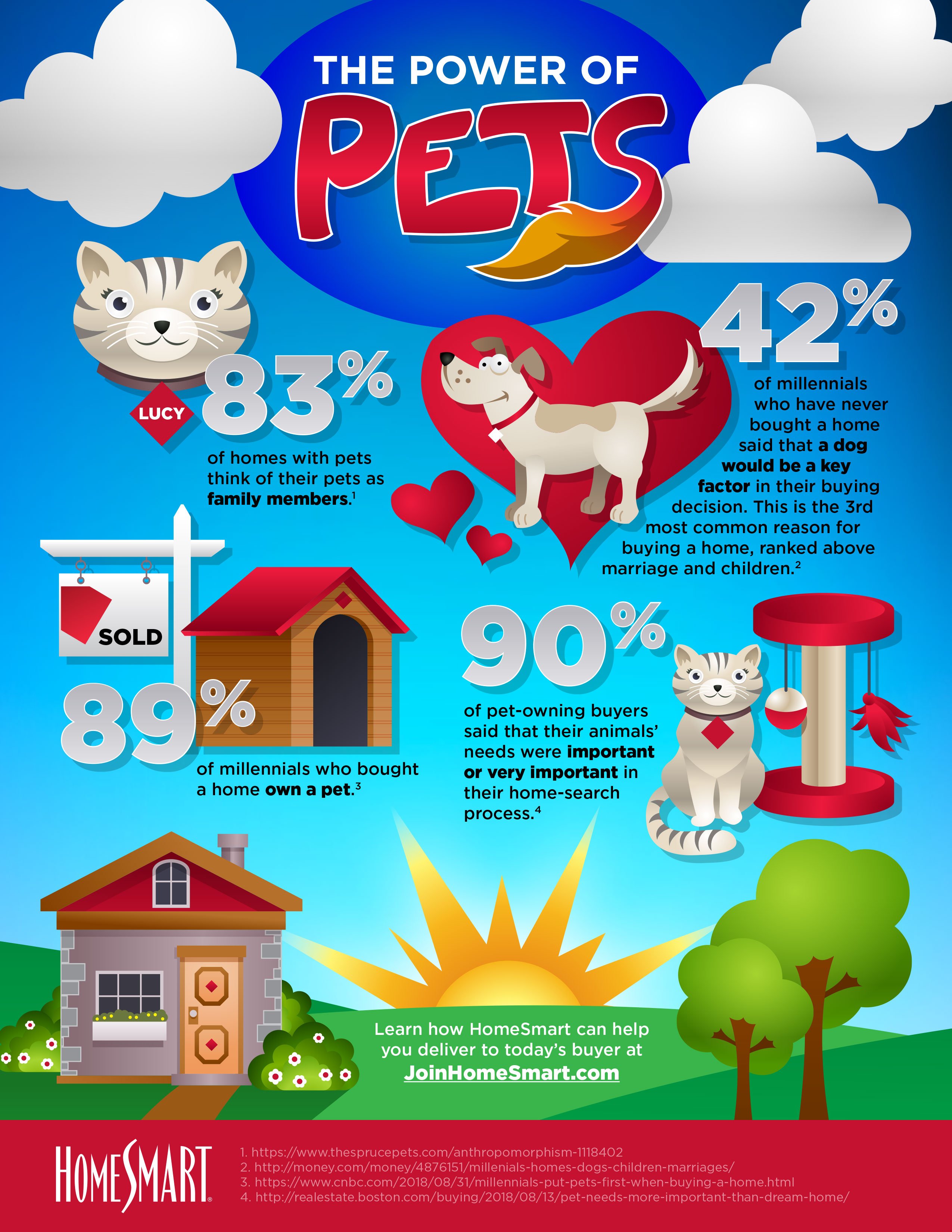 1) Pets are everywhere.
If you think that this is just a trend that will fade out, sorry to break it to you, but it looks like pets are here to stay as major real estate influencers. According to the American Pet Products Association, 79 million U.S. households own pets; that's 65% of households! This means that the majority of your real estate transactions will likely be with pet-owning buyers and sellers. If you still aren't convinced, consider this: 89% of millennials who bought a home this year also own a pet. But they don't just own pets. They love their pets, which brings us to our next point.
2) Homeowners prioritize their pets' needs.
In many households, pets aren't just friendly faces; they're family. A Harris Poll noted that 95% of homes with pets think of their pets as family members, and this extends to the home-buying process. According to a Realtor.com online survey, 75% of buyers would pass up their dream home if it didn't fit their pets' needs. This is worth emphasizing: even if a home met every other requirement that buyers had, they wouldn't buy it if it wasn't perfect for their pets. That's the definition of love, right there.
The deep connection that people have with their pets is important for agents to take into account when working with both buyers and sellers. Even if you understand the importance of pets in real estate transactions, all of your clients have unique relationships with their animals that you need to accommodate for. To do this, you can use buyers' requirements for their pets to help them find the perfect home. You can also assist sellers in marketing their home's pet-friendly amenities. Let's break this down a little further.
3) Buyers have common home requirements for their pets.
While all buyers have slightly different preferences, surveys have shown some patterns in what they see as a pet-friendly home. In a Realtor.com study, participants were given a list of important home features to rank. Almost half (45%) of buyers said that a large yard was necessary, 36% wanted any outdoor space and 33% needed a garage for their animals. These were the most common requirements, but the list doesn't end there. Many buyers also wanted large square footage, sturdy flooring and close proximity to open space.
As an agent, it's important to ensure that you're on the same page as your buyers. You can use these statistics as a starting point, but be sure to ask each client what their specific requirements are for their pets to get a fuller picture. You might be surprised to hear that a good spot for the litter box is a buyer's top priority!
4) Sellers likely have some of these marketable requirements in their homes.
Many agents don't think of marketing a home's pet-friendly qualities, but this could be the hidden trick to making a quick sale. You already know how popular pets are, especially in the real estate market, so why not capitalize on this in your listings and showings? You can do this by yourself up to a point, but you'll also want to encourage sellers to keep their homes as pet-friendly as possible.
To start, find the aspects of a seller's home that make it the perfect spot to raise pets. For example, you might want to emphasize hardwood floors that are easy to clean, or a large yard equipped with secure fencing. You can even market the town surrounding the home in terms of what it can offer pets. Maybe there are lots of dog parks around, or perhaps a five-star groomer is a short drive away. No matter what, there's bound to be something about your seller's home that you can showcase as pet-friendly.
Another effective way for sellers to advertise their home as pet-approved is through showings. As an agent, you can pass on valuable tips for sellers to ensure their homes are in tip-top shape before buyers walk in. Encourage them to clean up any pet toys or beds, remove any litter boxes, clean their floors and pick up their yard before showings. Buyers are more likely to see a home as having potential without all of the mess.
5) Pet-friendly agents get pet-friendly business.
Since pets have so much control over the real estate market, you can stand out by using them in your marketing strategy. You've already taken the first step by reading this blog post, but continue to familiarize yourself with what pets need to thrive in a home. You'll be more in touch with your clients' requirements, which will impress them and spread your name. If you want to take this a step further, you can market yourself as pet-savvy by reaching out to local businesses. Whatever you decide, rest assured that there are plenty of opportunities to market yourself in today's real estate market, where pets are the new real estate buyers.