You know your home better than anyone, which is why you not only see all of its beauty, but might also have a tendency to focus on its flaws. You know exactly which parts need work, but sometimes it can be difficult to actually get that work done. The good news is that you don't have to be an expert handyman to give your home a fresh look. Here are some of the easiest DIY projects that you can do to give your home an instant makeover.
Peel & Stick: It's Easy & Quick!
You may be familiar with the famous peel-and-stick wallpaper that has historically been used to cover up old walls and give rooms a facelift. There's no denying that a fun pattern or bold color can make an otherwise boring room feel brand new! But recently, homeowners have come up with new takes on this popular trend.
Living with old appliances? Find a wallpaper pattern that matches the colors of your home and stick it on your appliances! Try your dishwasher to start simple, and if you're feeling bold, maybe even try your refrigerator. One thing's for sure: your kitchen will look more modern than ever.
Another take on peel-and-stick wallpaper is peel-and-stick tile. This works best in smaller areas with less foot traffic, like a laundry room or den, and can even be used as a kitchen backsplash. Since these areas can often be difficult to decorate, removable tile is the perfect way to add appeal without going into unnecessary work.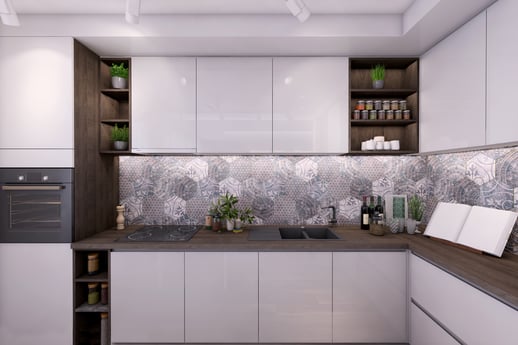 Experiment with Unconventional Storage
Let's face it, finding storage space that's practical and attractive can seem impossible. Fortunately, there are ways to make your storage blend into your home by using items that you can probably find around the house.
If you don't have a good place to store your towels, consider attaching baskets to the wall for a convenient and clever spot to place them. You can also use these baskets to hold blankets, pillows, or decorative items.
Not a fan of the basket look? No worries––a DIY ladder provides another great hanging space for towels, throws, and even accessories like hats and planters. If you want room for more storage or decorations, you can also add shelves to your ladder.
If you have a lot of books, you might understand the pain of finding the right bookshelf to store them. To eliminate the need for a large, clunky bookshelf, opt for an easy floating bookshelf to store your favorite books while impressing your guests.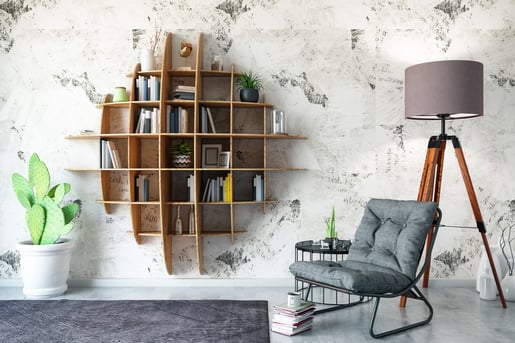 A Little Work Goes a Long Way
Sometimes the biggest results come from the smallest changes. You don't have to spend all day on a DIY home project to give your home a makeover. One surprisingly effective way to boost your home's appeal without much work is by simply painting or replacing door knobs. Try it out on your cabinets, dressers, or anything that needs updating to give your home an instant boost.
Your window treatments can affect the look of your entire home, so something as simple as swapping out curtains can make a huge difference. If you don't want to go through the effort of buying curtains, try making your own! The best part is that these don't require any sewing; all you'll need is some fabric, rods, and tape to completely transform your space.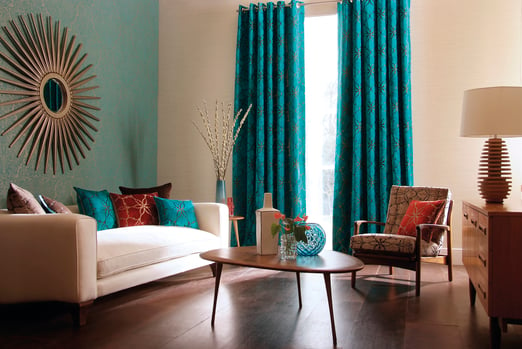 Get Outside!
The outside of your home is just as important as the inside. If it isn't speaking to you, there are simple ways to change that. First, try painting your front door. Adding a pop of color can boost your mood and make your home stand out without requiring hours of your time and all of the tools in your toolbox. Plus, this is the first interaction that your guests will have with your home––make sure it's a good one!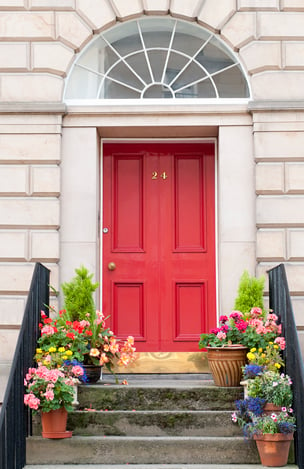 You can also make the home yours by creating a custom address sign to place on the outside of your house. For example, you can use a monogram of your family's last name as the base of your sign and then add your numbers on top. Adding a personal touch to your address will help you see your property as less of a "house" and more of a "home."
We could go on forever listing DIY home project ideas, but hopefully by now you can see that the possibilities are endless. With a little brainstorming and creativity, your home will be dressed for success in no time. Have fun DIY-ing!