Agents come to HomeSmart knowing they'll take home 100 percent of their commission, but many don't expect to get a fancy car out of it, too! Sean Conrad of HomeSmart Premier Living Realty in Long Island, New York proves the power of HomeSmart's 100-percent commission model. He purchased his dream car, an Alfa Romeo, after less than a year of being a HomeSmart agent thanks to the commission he saved.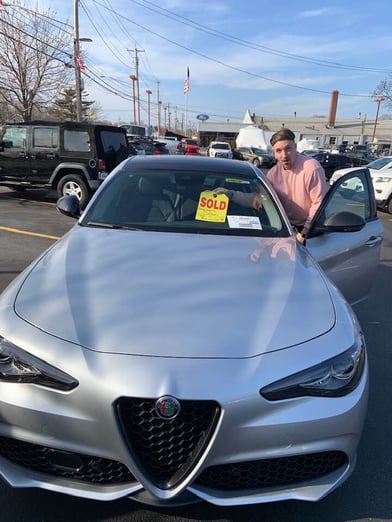 How'd He Get Here?
Sean's life has changed drastically in a short period of time. Four years ago, he was a custodian with no real estate experience, and just two years ago he decided to make a life-changing decision. His friend told him about a real estate convention happening in the area, and that's when Sean made the plunge into real estate by joining a traditional brokerage. While he made several transactions per year, he only received 50 percent of his commission back. He quickly realized that he wasn't being rewarded properly for his results.
When looking at other brokerage options, HomeSmart stood out to him because it offered something different: 100-percent commission. In November 2018, he joined for this reason.
After signing on with HomeSmart, Sean realized that earning more commission was just one of many reasons why it was the right move. Above all, he says, "My favorite thing about HomeSmart is the people." The Agent Services team makes him feel supported in using HomeSmart's powerful technology and answers all of his questions right away so he can focus on growing his business. Thanks to the HomeSmart bamily, Sean has been able to reach his full potential, and for that he is forever grateful.
How'd He Get the Car?
Sean earned every penny he deserved after transitioning to HomeSmart. He was still doing several transactions a year, but this time he was making 50 percent more money for his work. He began to save his extra commission, which opened new doors for him.
Sean had many options when it came to spending his saved commission, but he looked inward and decided that a car was the best investment for him. "I wanted to stand out and impress clients, and I've always loved cars," Sean said regarding his thought process behind the purchase. Needless to say, he stands out now!
What's Next?
Sean bought the car of his dreams only seven months after joining HomeSmart thanks to no commission splits, so who knows what the next seven months will bring?
When we asked Sean what advice he would give to other agents wanting to be in his position he said, "You simply can't sell yourself short." As a real estate agent, you work hard for your commission and therefore deserve to keep it for yourself. So why give some of it away to a traditional brokerage?
HomeSmart's 100-percent commission model rewards you fairly for your hard work, while also giving you the resources you need to feel supported and be successful. From our accessible agent services team to free training resources and technology for our agents, HomeSmart helps agents like Sean work smarter, not harder.
If you're ready to see your dreams turn into reality, learn more about how HomeSmart can change your business and your life.