Real estate teams have emerged as a successful path for agents looking to expand their business and realize more profits. But what makes a real estate team truly great? What can you, as the team leader, do to build a positive reputation in the community and become instantly recognizable (and trusted) every time someone hears your name or sees one of your "for sale" signs on a front lawn? Which steps can you take to find success—and then build upon that success?
Although no magic formula exists that determines what a real estate team must do to achieve excellence, this list of 10 things the best teams have in common is a good place to start:
1. A defined infrastructure
Who does what? This simple concept is the heart of successful real estate teams. Yet, surprisingly, many teams have not established a clear infrastructure and subsequently struggle with efficiency and completing even the most basic tasks. On great teams, no one ever says, "I didn't think that was my responsibility." Pick a team infrastructure that matches your goals and experience, and then define roles within that framework,
2. An understanding of what's been created
With your infrastructure in place, team members hired, and roles defined, take a step back and look at what you've created. The odds are, it might not quite look the same six months, a year, or a few years from now. That's fine: Great teams recognize gaps in their operations and adjust as needed. They also chart a growth path if expansion is a long-term goal so that new team members can seamlessly be hired and adapt when the time is right.
3. Team agreements
Agreements made with your team members go beyond roles and responsibilities—they should also include:
Team member titles

Licensing policies

Disclosure requirements

Compensation structures and commission splits

Recruiting policies

Separation procedures

Confidentiality policies

Referral fees
Defining guidelines, policies, and procedures from the start diminishes team ambiguity and contributes to the efficiency that enables great real estate teams to thrive.
4. Knowledge of regulations
The myriad of industry, financial, and government regulations and licenses required for real estate agents can be overwhelming just for one person. That complexity exponentially increases within a team operation, so staying on top of regulations and compliance is critical. Great teams dedicate time and resources to regulations and embrace the endeavor as something that boosts, not hinders, their success.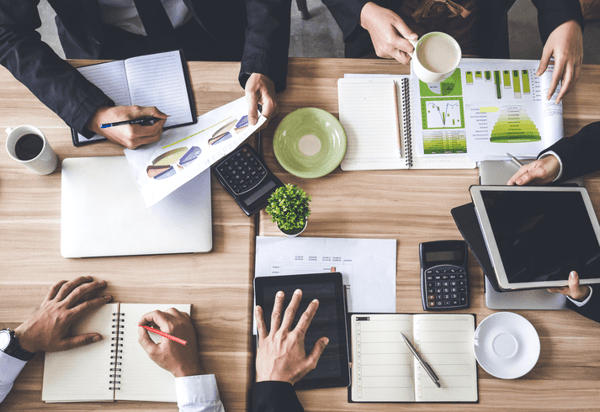 5. Minimal churn
In a perfect world, the team you build loves the work environment you've created and the success being realized and, thus, stays until retirement. Of course, that scenario is far-fetched—some team members will inevitably leave for other jobs. Churn is expensive: Replacing people and training their replacements requires time and money, and you become less efficient when roles are unfilled. Great teams see their members depart for other exciting adventures—such as striking out on their own, which some team leaders see as a sign of success—and not because they are disillusioned with their jobs. Develop a terrific structure and culture, and only the most enticing opportunities will cause your coworkers to leave.
6. Ability to stay competitive
Real estate teams that find success can't rest on their laurels. Even the most reputable operations must strive to find new clients, hire the best people, improve their skills, and, most importantly, continue to close deals. Great teams—even ones with no plans for expansion—never take anything for granted and always stay competitive in a local real estate market filled with other agents and teams hungry to steal your business.
7. Ongoing training and development
Training and development are essential to great real estate teams for two reasons. First, team members who are encouraged to upgrade their skills feel appreciated and are less likely to leave for the competition. Second, highly skilled real estate specialists are an incredible asset to clients, whether those clients are sellers trying to get the most of their properties in a sluggish market or buyers looking for the homes of their dreams. Satisfied customers tell others of their positive experiences; a team that is constantly learning is more likely to achieve such reviews.
8. Technology savvy
In a report from Inman on real estate teams, "more than 80 percent of respondents believe technology is helping the way teams work." This technology is much more than just having a nice website and texting potential buyers when a property goes on the market in their neighborhood. For example, team-centric brokerages might offer transaction management resources, marketing tools, and paperwork review apps that streamline processes for teams and their clients. And when teams aren't bogged down with busywork, they can focus more time on a primary goal—delivering top-notch service to customers.
9. Profitability
The final two characteristics of great real estate teams may be the most obvious. Let's start with profitability: Success can be easily measured by the amount of commission earned and how much is left over after expenses are met. One strategy many thriving teams take advantage of is the transaction-based fee model offered by some brokerages. With this approach, fluctuating commission-based fees are bypassed in favor of a flat fee, thus allowing teams to keep more of their commission and avoid haggling with either their brokerages and their agents. Subsequently, team leaders more efficiently hammer out bonus structures with partners, who in turn are inspired to deliver more excellent work—which boosts profits even more.
10. Growth
Inevitably, most real estate teams will want to grow by adding agents, listing specialists, marketing experts, support staff, and so on. The best teams approach growth intelligently, adding people only when the time is right. Expanding too quickly can result in a team with too many members and not enough revenue to profitably pay them. Expanding too slowly can lead to more work than you can handle—which may be why you started a team in the first place. Often, working with an outstanding brokerage can facilitate a smart growth strategy. With a brokerage that understands the needs of teams, the resources are there when you are ready to expand and take the next step toward being great.
What characteristic of great real estate teams do you think is most important?