How HomeSmart Is Positioning Itself to Be the Ideal Brokerage That's Real
The real estate industry is constantly evolving as more vendors come into play, promising quick and painless transactions without the need for an agent. These disruptors' claim to fame is their "modern" practice of severing the agent/consumer relationship, but that is not what brokers, agents and consumers want. They desire a modern experience with time- and cost-cutting efficiency and to know that help and support is never more than a text, call or click away.
HomeSmart says the search for the ideal brokerage—that's real—can be called off.
The following article is the cover story in the October issue of RISMedia's Real Estate magazine.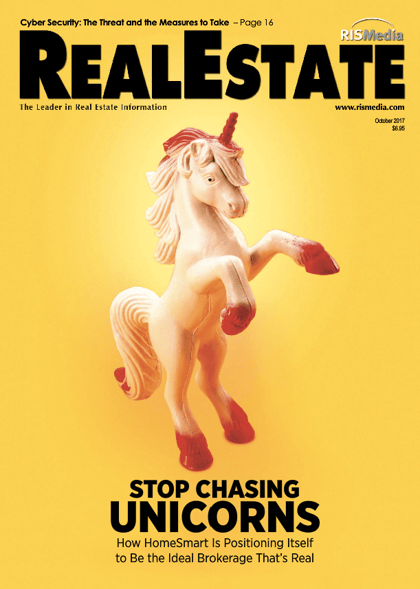 The real estate industry's appetite for disruption is challenging everything known about the business. In the right hands, it's an exciting excuse to embrace innovation. In the wrong hands, it isolates consumers and agents throughout the industry.
Being a disruptor is a claim increasingly made by brokerages and emerging technologies. Opendoor and Zillow Instant Offers have garnered a lot of attention as disruptors. In an effort to get noticed, other companies jumped on the bandwagon. But, when it comes to creating a smooth, beneficial and enjoyable real estate transaction for all parties, HomeSmart CEO Matt Widdows says disruption is the last thing the broker, agent or consumer wants. They want a modern experience, time- and cost-cutting efficiency and to know that help and support is never more than a text, click or call away.
The company has been leading the charge to clear the typical brokerage clutter for well over the last decade, providing a business model positioned to thrive in an otherwise uncertain climate.
"Through all the market's uncertainty, HomeSmart's high-service, low-cost model, enabled by a cohesive software platform and toolset, continues to be the most reliable, high-performing approach that delivers consistency and value," says Widdows.
In this regard, says HomeSmart, the search for the ideal brokerage—that's real—can be called off. HomeSmart has found a business model to which a growing number of agents and brokers flock. There are nearly 14,000 agents throughout the country, and HomeSmart intends to add another thousand before year's end.
"I think disruption is helping our model in many ways," says Widdows. "We're very technology-based already. We're in a good position moving forward. Companies relying on heavy revenue streams based on agent commissions are going to have a hard time adapting."
Perhaps this is why Keller Williams recently announced it would set aside $1 billion for technology development to combat disruption, suggests Widdows.
HomeSmart, which has been running on its proprietary software for more than a decade, is poised to go head-to-head with a disrupted market.
"Our motto is that if we have to do it twice, automate it," says Widdows, adding that technology is not in any position to oust agents from their business if the right model is established.
It's not easy for agents and brokers to recognize the right model. A lack of consistent reporting within the industry is keeping them from accurately comparing what every brokerage offers. The result is a struggle for finding true transparency. An agent may join a company that offers 100 percent commission, thinking they'll keep all their money, but then they're hit with fees left and right. Agents are having to learn the hard way that not all brokerages are designed equally.
In man versus machine, technology can't compete with a real estate agent as a local expert. Yes, more than half of buyers found the home they purchased online, according to the National Association of REALTORS®; however, 88 percent of buyers purchased their home through an agent or broker.
"I think disruption within the industry that keeps the process personal, but allows the consumer to have more control, influence and information, is a healthy disruption," says HomeSmart COO and President Ashley Bowers.
Unhealthy disruption, Bowers adds, is anything that comes between the agent and consumer.
"Buying a home is one of the most stressful things anyone goes through, and is typically the largest investment anyone makes," says Bowers. "To take out the expert in the process and move into a 100 percent technical or online approach, you lose the non-emotional guidance. Consumers need to have an advocate or expert in their corner who isn't emotionally tied to the transaction. It's the service the agent provides well beyond finding a home."
The agent manages transactions from start to finish, and HomeSmart is focused on making it as easy as possible for agents to do their job.
More than a quarter of agents and 21 percent of brokers reported spending between $501 and $2,000 on technology between May 2016 and May 2017. At HomeSmart, that number is zero.
"Agents will come in because of our fee structure, which includes a lot of value-adds such as technology at no cost," says Widdows. "At the end of the day, though, agents stay because of our service. It's the core of who we are."
The trait that HomeSmart says sets its service above the competition is integration.
"We're the first company out there that actually provides a 100 percent end-to-end integrated technology platform," says Todd Sumney, CMO for HomeSmart. "As a broker or agent, you can put all of your business in one platform. When an agent joins us, they aren't being nickel-and-dimed with technology costs to support different components of their business."
HomeSmart is a one-stop shop for agents. When they join, they receive access to proprietary software that streamlines the entire buying and selling process. Agents gain access to a dashboard called RealSmart Agent that shares information with their broker counterpart's dashboard, RealSmart Broker. In addition to saved time on simple data entry, HomeSmart's model puts operational standards in place for all aspects of the business. For example, teams are expected to process paperwork on transactions within 48 hours. What's even better? A solitary login to access the entire dashboard.
It's this efficiency that attracted Bryan Brooks, senior vice president of HomeSmart's franchise sales.
"HomeSmart wants agents to take their extra money and invest it in their own business as an agent, or even in their personal lives if that's what they choose," says Brooks, who came to the company two years ago after spending more than a decade at a traditional brokerage. "HomeSmart agents are given the choice of what to do with their extra earnings, instead of having to turn it over to their broker."
Beyond tech, HomeSmart fosters a collaborative culture and reinforces ongoing learning. It has active social media groups, offers training online and in-person and offers centralization that allows scale. HomeSmart's Centralized Services was created to alleviate workload and hard costs to franchises. Features include concierge calls that proactively seek out ways to help agents and brokers with a range of daily brokerage activities, such as recruitment, marketing, technology support and virtual reception.
"Matt was innovative before his time," recalls Brooks of his first meeting with the HomeSmart founder. "More than two-thirds of brokerages are still not paperless. The fact that HomeSmart has been offering that since 2007 has us years ahead of the majority of the industry."
HomeSmart is continuing to grow, and a large part of its immediate plan is expansion through acquisition and entering into new markets. In May, HomeSmart acquired Denver brokerage Cherry Creek Properties, making the Arizona-based firm the largest in Colorado by agent count. Looking forward, Bowers says sights are set in the South and on the East Coast, with a goal to surpass an agent count of more than 15,000 before the end of 2017. Since acquiring Cherry Creek Properties, the company is adding about 40 agents a month to its Colorado teams.
The combined national performance for HomeSmart, its franchises and Cherry Creek Properties in 2016 was $14.68 billion in closed sales volume and 53,888 in closed transactions.
Nationwide, HomeSmart has 126 office locations, with 42 of those being corporate-owned branch offices, and the other 84 privately owned by franchisees.
The more business automation these offices and franchises have access to, the more time and resources individual agents and brokers will have to make sales and focus on personally connecting with consumers. This is HomeSmart's next focus, Bowers says. Bringing transparency to the consumer will only make the agent—the backbone of the industry—more valuable, and HomeSmart intends to be the first one knocking at that door.
Operational Excellence Through Centralized Services
HomeSmart credits its high performance to the operational rigor it puts into every aspect of its unique brokerage model. From recruitment to transaction management to agent and broker support, its centralized services create optimal efficiency and service that scales. Take a tour of HomeSmart's centralized service operations at www.HomeSmart.com/Broker360.
Real World Innovation
HomeSmart innovates with purpose. It's the company's focus to not invest in or release technology without demand or value to its agents and brokers. Beyond seamless transaction management via tools and systems, HomeSmart International offers agents and franchisees access to technology such as:
Lighted Yard Signs
A HomeSmart exclusive, the lighted yard sign lets listings shine 24/7.
SmartReception
A virtual live receptionist service greets guests, answers phones and grants remote access to offices. HomeSmart's franchise owners are able to better manage overhead costs by subscribing to the service with full coverage at a branch office, or part-time coverage while on-site staff are away.
SmartListing
When HomeSmart agents use a SmartListing yard sign, they give consumers the ability to text, click or call to get instant access to property details on their phone. Simultaneously, agents get notified of the inquiry, while also having the contact's phone number automatically captured in their RealSmart Agent CRM for future follow-up.
SmartShowing App
This app helps clients and agents keep track of scheduled showings. SmartShowing finds the best driving routes between each home tour and allows clients to upload images and take electronic notes at each property. Consumers can also quickly access information about nearby listings for future tours and showings.
RealSmart Broker
With a big upgrade planned for Q4 2017, this technology hub enables HomeSmart's brokers and franchisees to manage their entire business end-to-end from one place. The platform centralizes a 24/7 paperless transaction system and broker/agent communications. Additional features include education portals, recruitment assistance and accounting integration.
RealSmart Agent
Fully integrated with the broker system, HomeSmart is releasing a brand-new agent dashboard in 2017. With a single login, agents can access all listing information, transaction documents, custom marketing materials and everything needed to manage their business.
High Standards Start Here
Core to HomeSmart's model is helping its franchise owners and brokers maintain a strong bottom line without sacrificing a high-quality agent experience. Its franchise operations team works with each franchise on model adoption to ensure their success. That includes helping meet standards for size, layout, amenities and décor for branch offices. See those standards for yourself at www.HomeSmart.com/Branch360.
For more information, please visit www.homesmart.com.