By: Rob Foglio and Bill Kratz, HomeSmart Realty Advisors Co-owners/Brokers
The real estate market is flooded with competing brokerage models vying for agents' attention. It's up to the brokers to be able to stay ahead of the competition and set themselves apart by learning what's important to agents and capitalizing on the best opportunities to capture their eye.
Our brokerage, HomeSmart Realty Advisors in Philadelphia, went from zero to 62 agents in five months. Supplementary to the support HomeSmart provides through tools, technology and centralized services, we're sharing our top five tips to help you recruit to your brokerage.
1. Develop a seductive unique selling proposition.
If you're on the sixth floor of an elevator going down and you're standing next to a potential recruit, what can you possibly say to them to grab their attention? That's where your unique selling proposition comes into play.
I emphasize the no broker splits aspect of our value proposition in my email signature. It's B.S. that any REALTOR® should have to pay a percentage of their commission to the brokerage, when they do all the work. The fact that HomeSmart is a 100% commission model is, in itself, a unique selling proposition.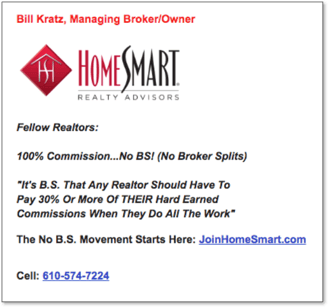 We also use: We help REALTORS® to make more money, work fewer hours and finally live the financially-independent lifestyle they dreamed of when they first got started.
Test several USPs in your marketing that highlight what agents really want.
2. Consider what agents really want.
REALTORS® want to keep as much of their hard-earned commission as possible, work less and have autonomy in their business, so they can spend more time with their family (one of the main reasons why people end up in this business) and live a financially independent lifestyle.
We build our brand around what agents really want at the end of the day and that's where we start the conversation. Then we break it down and explain how we help them accomplish that. It's not all about tools, technology and support at the beginning - that comes in later.
3. Become omnipresent using social media.
Every franchise should have a face. People want to work with other people, not a company. Use a personal Facebook page and when you meet an agent, "friend" them - as many as possible. The more agents you influence, the better chance of recruiting.
Without paying for sponsored ads, Facebook acts as a 24/7 networking event. There's always a conversation taking place with real-time feedback and comments. You can see which agents are discussing pain points in their business and "friend" them. Put social media to work for you. For example, if I post something at 6 a.m. and then go about my day at recruiting appointments and networking events, that post is going to work for me all day long to get engagement, likes and my messages in front of other people.
In addition to seeing us at an event or receiving a phone call from our recruiter, agents can go to my Facebook page and see everything I've been posting about my business. From there, I get a direct message from the agent saying, "Wow your company seems so great," or, "That's what I want to be doing," and over time, social media begins to really work for you.
When posting, once again consider what the agents want. With our messaging, we discuss tools and technology later and instead spend a majority of our time using marketing messages that create a rise in emotion. Think about how to get people angry that they're working at another brokerage. Post content that will get agents to start realizing that they can do much better at your brokerage by creating an emotion for people to respond to.
4. Host monthly events.
If you're not hosting multiple, ongoing monthly live events with key industry players, you're committing a recruiting sin and leaving so much opportunity on the table.
Our number one recruiting tool is hosting lead generation events like our Ultimate Agent Mastermind. We host this event twice a month to talk about marketing, lead generation, business growth and personal development. We invite our agents and others through mass text messaging, emails and Facebook invitations.
Here's a tip: When you have happy agents, they will be your best cheerleaders and promote you to the other agents at events.
We do multiple happy hours on a monthly basis that show we appreciate our REALTORS®. We host our agents and invite others, so we can network across companies in the industry.
You may wonder what kind of budget we have for these events and if we've seen an ROI on our out-of-office budget. A great way to save money is to have these events paid for by co-sponsors in the industry (mortgage companies, title companies, warranty companies, movers, etc.) All parties pitch in for costs and all benefit by mingling with the same target audience. If you don't co-sponsor an event, you can select inexpensive vendors and pay yourself. Putting on an event where your happy agents can mingle with real estate professionals from other brokerages, provides you with a recipe for successful recruiting, and in turn, your ROI.
5. Understand pain points/desires of target market.
If you're looking to hire more REALTORS®, you need to get to know more REALTORS®. Gather the insight you'll need to tap into the mind of any real estate agent. This will enable you to craft marketing messages that recruit for you.
Take 15 minutes every day to read up on agent forums, so you know what matters to agents. We suggest you join agent-centric Facebook groups and read comments on Inman articles and other industry publications to see how people really feel about the different real estate topics and trends.
Finding time to execute these recruiting tips is half the battle when growing your brokerage. When we asked some of our fellow HomeSmart franchisees what they do to allow them more time to dedicate to recruiting, the overwhelming answer was delegating tasks.
Delegate operational duties to free you up to recruit. HomeSmart broker/owners, just like us, have found utilizing the company's centralized service offerings to be tremendously beneficial. The Centralized Agent Services team is dedicated to answering all operational questions an agent may have. And HomeSmart's Centralized Career Services team is committed to recruiting agents to your brokerage for you. We've found that utilizing these centralized services costs less than hiring someone to do these tasks in-house.
To learn more about HomeSmart's high performing model and how they can recruit for you, check out HomeSmart.com/Recruiting.