By: Bryan Brooks
All residential real estate franchisors operate differently. Many have strict and rigid standards that limit the amount of freedom a franchisee has to make decisions for their own brokerage. These stringent standards present a problem for brokerages, because real estate is a local business.
Real Estate Is Local
It is the franchisor's job to support their franchisees and give them the means to succeed. Franchisees should be given technology, tools and systems that are proven to improve a brokerage's business operations, while offering flexibility so they can operate locally.
Programs offered by the franchisor should help alleviate a franchisees' task of building their business, while allowing autonomy in their market by giving them the opportunity to hand select their preferred partners, arrange events specific to their brokerage and choose how they support their community.
While technology, tools and systems can be adopted to make your brokerage more efficient and better operating, not everything in real estate translates from one market to the next-- regulations are different, MLSs are different and even the companies you come in contact with day-in and day-out, like mortgage companies and title agencies, vary from one market to the next.
Partnerships
Besides the agent and consumer, there are many other people involved in the purchase of a home, like a mortgage broker, loan officer -- not to mention, an inspector and movers. The purchase of a home is one of the biggest purchases of a lifetime, so brokerages should enter into partnerships with companies who understand the weight of that and are available and ready to put your agents and clients first, just as you do. Their approach to service should be streamlined and built to make the entire interaction as painless as possible.
While franchisor's can negotiate partnerships nationally, it's important for other partnerships to be based on local relationships.
For example, HomeSmart International partners nationally with Virtuance for real estate photography; HomeSmart Phoenix partners with Equitable Title Agency, Movement Mortgage and Platinum Home Warranty and has a number of other trusted affiliates and in Colorado we partner with Fairway Mortgage. As a franchisor, we don't make any mandates on who you can or cannot partner with.
Brokers should encourage agents to utilize partners and business affiliates who are experts in title, mortgage, home warranty and other specialties they work with every day as a realtor. An excellent team of trusted companies provides tremendous value to agents, because not only do these businesses provide the highest level of service, but they also go the extra mile to make each interaction and transaction as smooth and seamless as possible for agents and their clients.
Agent Events
Besides allowing franchisees to choose their own partnerships, brokers and agents should also be allowed to host agent events of their choice. Whether they arrange happy hours, movie nights, office lunches or trainings, franchisees can organize agent gatherings that are specific to their brokerage. Events are great ways to promote recruitment and retention and show you care about your agents.
Community Involvement
It is also important to get your brokerage's name out there and make a footprint in your market -- an easy way to do this is by getting involved in the community. Franchisors might sponsor a national charity, but they should also offer their franchisees the freedom to choose what philanthropies they'd like to contribute to and other ways they can support and be involved in their local areas.
For example, HomeSmart is a highly charitable company that believes social responsibility is equally important as providing our employees with a great place to work. HomeSmart Helps gives back to our communities to foster a spirit of philanthropy through children's charities nationally.
Last year, for the 2016-2017 school year, HomeSmart created Tools4Schools, where HomeSmart agents in the 16 states we operate in, donated school supplies to the Title 1 schools near their home office locations. In Maricopa county in Arizona alone, these donations were distributed to over 2,000 students at five different schools. HomeSmart employees took time to shop for and put together these much-needed tools and backpacks for local youth, so that they could return to school prepared and with dignity.
This year, HomeSmart Phoenix donated $2,500 worth of supplies to Campo Bello Elementary School, in Phoenix, AZ, and sent a check in the amount of $2,500 for supplies to Eisenhower Elementary School, in Mesa, AZ. HomeSmart Phoenix will also have volunteers at the schools' back to school nights and curriculum nights.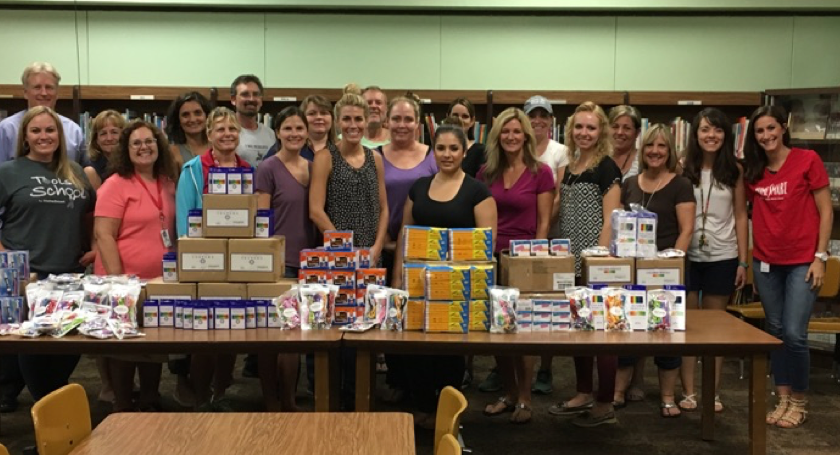 Teachers and staff of Campo Bello Elementary School - Phoenix, AZ.
HomeSmart Realty Group in Oregon takes pride in their annual collection of diapers that will be donated to Family Building Blocks to benefit local children.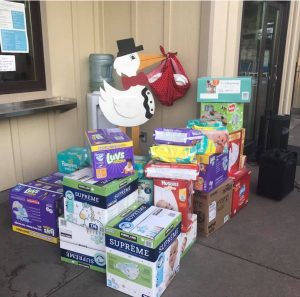 It is critical to encourage philanthropy and positive impact in our local communities, and allow for each individual franchise to decide how and where they want to serve. Some could choose children's charities and others can choose different personal and impactful community groups. Whether franchisees donate their time and resources to an already existing charity of their choice, or design their own philanthropic program, every brokerage should be able to choose how they'd like to give back to their community.
As a franchisor, HomeSmart International works hard to constantly improve our model. We want our franchisees to adopt the model, so that they can grow effectively, but we also understand the need for flexibility in other areas. By offering flexibility to our franchisees, we enable them to make choices that are best for them, their individual brand and their market. This way, they can focus on growing their business and creating their own individual footprint in their market.
To learn more about the HomeSmart franchise business model and if it's a good fit for your brokerage, contact Bryan Brooks at bryan.brooks@hsmove.com or call 800-383-7051.